Rob DePetris, LLB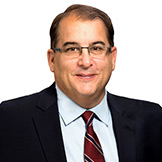 Rob graduated with an Honours Bachelor of Business Administration from Brock University in 1989. He graduated with Bachelor of Laws from the University of Toronto in 1992 and was called to the Bar in the province of Ontario in 1994. Rob has completed the Canadian Institute or Chartered Accountants' In-Depth Taxation, Corporate Reorganizations and Owner-Managed Business courses and is a member of the Canadian Tax Foundation.
Rob is a Tax Principal at WMKL. He specializes in owner/manager clients and estate planning. Rob has worked with many Corporate clients to develop an effective tax structure. On the owner managed front he has implemented various estate freezes and been involved in the purchase and sale of owner managed businesses.

He is on the board of directors of the Canadian Automobile Association, Canadian Automobile Association of Niagara, Rotary Club of St. Catharines and the Greater Niagara Chamber of Commerce. Rob has served in the past as chair of the board of the St. Catharines and Thorold Chamber of Commerce, chair of the board of the United Way of St. Catharines and District, and President of the St. Catharines Minor Baseball Association. He is a proud member of the Rotary Club of St. Catharines and he is a life-long season ticket holder of the Hamilton Tiger Cats.
Need professional accounting?
Not sure where to start?
We are your business & personal accounting specialists.