Mike Lopinski, CPA, CA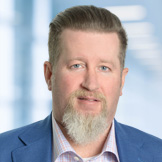 Mike Lopinski's retirement from Wormald Masse Keen Lopinski LLP as of January 1, 2023 will cap 37 years of dedicated service to his many clients both locally and all over Canada. In addition to helping with all their accounting needs, Mike has been a trusted advisor to business owners with whom he's developed valued, long-term relationships.
A lifelong resident of St. Catharines, Mike began his career in public accounting with (what is now known as) WMKL in 1986 as a young, bright-eyed and naïve co-op student. He graduated from the University of Waterloo with an Honours Bachelor of Arts degree in the Co-op Accounting program and obtained the designation of Chartered [Professional] Accountant in 1990. Mike was admitted as Partner in 1999 and later completed the CPA Canada In-Depth Tax, In-Depth GST and In-Depth PST courses.
While he is retiring from public accounting, Mike is not quite ready to actually retire. He will continue to work at managing and growing the Five Guys burger franchises he owns with his business partners, as well as taking on a CFO role with a private company. He also plans to spend more time with his family, and golfing and relaxing in California.
Mike is proud of how the firm has matured and flourished over his 37 years, and of the relationships he has generated with the partners, staff and clients alike. He credits his professional growth to the firm's supportive and collaborative culture and asserts that WMKL has been the one constant that he could rely on. In addition to his clients, staff and partners, Mike would like to thank his wife Kellie, and sons Matthew and Aidan for their continuing support over the years. He is excited to watch as Aidan continues the family tradition and follows in his dad's and Uncle Art's footsteps (Aidan is currently a 2nd year co-op student at WMKL). Mike is proud to say that he is a better person and accountant thanks to his time spent at WMKL.
The Partners are honoured to have had Mike as part of our team. We want to take this moment to assure all of Mike's clients that we look forward to continuing to work with them during this transition, and in the years to follow. Please join us as we extend our warmest wishes for the future to Mike.
Need professional accounting?
Not sure where to start?
We are your business & personal accounting specialists.