Korina VanLeur, CPA, CA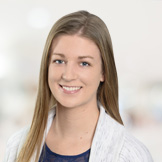 Korina graduated from Brock University's Honours Bachelor of Accounting co-op program in June 2016, then went on to complete Brock University's Master of Accountancy program, graduating in October 2016. Korina successfully completed the Common Final Examination (CFE) in September 2016. She started her career in public accounting in May 2012, joining the WMKL team as a first year co-op student.

Korina is involved in various activities outside of the office such as volleyball, horseback riding, hiking and spending times with family and friends.
Need professional accounting?
Not sure where to start?
We are your business & personal accounting specialists.